Perancangan Identitas dan Profil Perusahaan Kafe Kontainer Vessel
Abstract
Vessels merupakan jasa modifikasi dalam pembuatan kafe kontainer serta dapat menyediakan training terhadap sumber daya manusia. Perusahaan Vessels masih tergolong perusahaan baru yang berdiri sejak 2018, dikarenakan perusahaan Vessels masih tergolong baru, maka Vessels belum memiliki identitas perusahaan seperti logo. Perancangan identitas perusahaan juga meliputi dalam pengaplikasian logo terhadap media visual yang dibutuhkan seperti stationary set, business documents, uniform, vehicle dan company profile. Perancangan identitas perusahaan dibuat melalui langkah-langkah dari Alina Wheeler.
References
Balmer, J. M. (1997). European Journal of Marketing. Corporate Identity: The Concept, Its Measurement and Management, 31, 342. Diperoleh dari E-journal: http://www.emeraldinsight.com/doi/abs/10.1108/eb060635
Bloch, O. (2013). Corporate Identity and Crisis Response Strategies . Frankfurt, Germany: Springer VS.
Hadi, A. (2018). 8 Unsur Seni Rupa. Diperoleh dari website: http://www.softilmu.com/2015/11/8-macam-unsur-unsur-seni-rupa-adalah.html
Idris, M. (2017, March 20). Modal Rp 1,3 Juta, Pemuda Ini Bisnis Kafe Susu Beromzet Ratusan Juta. Diperoleh dari website: https://finance.detik.com/solusiukm/3451051/modal-rp-13-juta-pemuda-ini-bisnis-kafe-susu-beromzet-ratusan-juta
Jabbar, Z. (2014). The Impact of Corporate Visual Identity on Brand Personality. Brunel Business School, 10. Diperoleh dari E-journal: http://bura.brunel.ac.uk/bitstream/2438/8734/1/FulltextThesis.pdf
Nielsen.com. (2013, 01 22). Global Consumers More Likely to Buy New Products From Familiar Brands. Diperoleh dari website: http://www.nielsen.com/us/en/press-room/2013/global-consumers-more-likely-to-buy-new-products-from-familiar-b0.html
Otubanjo, O. (2013). The Extended Corporate Identity Mix. International Journal of Marketing Studies, 60. Diperoleh dari E-journal: www.ccsenet.org/journal/index.php/ijms/article/viewFile/23932/15169
Psychology, C. (2018). Maroon Color. Diperoleh dari website: The Psychology of Colors and the meanings: https://www.colorpsychology.org/maroon/
Rostami, K. (2010). The Implications of Behaviorism and Humanism theories in medical education. Research Institute for Gastroenterology and Liver Diseases, 1. Birmingham: University of Birmingham
Solopos, A. (2016, Mei 17). Bisnis Waralaba Tumbuh Pesat di Indonesia. Diperoleh dari website: https://economy.okezone.com/read/2016/05/17/320/1390833/bisnis-waralaba-tumbuh-pesat-di-indonesia
Wheeler, A. (2009). Designing Brand Identity. New Jersey: John Wiley & Sons, Inc.
DOI:
https://doi.org/10.25008/jpi.v1i2.18
Refbacks
There are currently no refbacks.
---
Indexed by: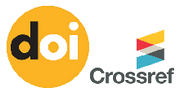 ---
Copyright of Jurnal Pewarta Persatuan Wartawan Indonesia

This work is licensed under a Creative Commons Attribution-NonCommercial-ShareAlike 4.0 International License.
---
ALAMAT REDAKSI
Pengurus Pusat Persatuan Wartawan Indonesia Gedung Dewan Pers lt. 4 Jl. Kebon Sirih No. 34 Telp. 3453131; 3862041 Faks 3453175 www.pwi.or.id
Contact Person:
 Prof. Dr. Rajab Ritonga (WA 0811133471)